How Can You Tell the Age of a Parakeet
Disclosure: The opinions expressed in this post are my own. This post may also contain affiliate links, which means that I will receive a commission if you decide to purchase through my links, at no additional cost to you.
How exactly do you tell the age of a parakeet? With all those feathers, it can be hard to tell!
The age of the bird is necessary to know in order to properly care for it. An older parakeet may need more softer foods and TLC than a younger one would need.
In this article, we'll cover how to check the age of your new feathered friend by using both physical and behavioral cues get a rough idea of the age of our parakeet.
How to Determine Your Parakeet's Age
Determining the age of your parakeet is not an exact science, but there are "rules of thumb" that you can use. If you're only looking to get a rough idea of how old your parakeet is, then there are 3 basic things to look out for.
General Size & Shape
First and foremost, the size of your parakeet will be the most telling sign. Juvenile parakeets typically have a much smaller body size than adults. They will also have a more rounded head and body shape. So, he younger a parakeet is, the more compact it will be in terms of its body proportions. Young birds typically have shorter bodies with little distinction between head and body. As they age, their bodies tend to become longer and more streamlined.
Color & Feathers
The feathers of a young parakeet tend to be brighter and more vivid in color. Older parakeets may have duller and grey-looking feathers as they age due to the increased production of melanin. Also, the feathers of younger birds may be softer and more supple to the touch compared to a mature bird whose feathers will be more rigid and course.
If your bird has lost some or all of its juvenile feathers and grown into adult plumage, look for signs of wear and taring on the tips of its wings and tail feathers. Older birds often have more tattered feathers than younger ones, as these take on the wear and tear of daily life in even just a few months!
In addition, you can also note whether or not a bird has any signs of molt on its feathers. Younger birds will usually have smooth, even feathers with little damage or missing patches. While older birds may start to display some areas where their feathers appear rough or broken off.
Behavior
Baby birds often act quite differently than adults – they'll beg for food from their owners, make more sounds, and are generally more playful than older birds. Older birds tend to be more sedate and may spend more time perching than younger birds.
All these behaviors can help you gauge how old your parakeet might be by comparing its activity levels against those of other birds around the same age group. Make sure to check out different bird species so you can compare them properly – there's no one-size-fits-all solution when it comes to determining a bird's age!
Making Sounds and Mimicking Human Speech
The younger a parakeet is, the less likely it is that they can mimic human speech properly. As parakeets age and learn more about their environment, they gain the ability to understand and imitate recognizable words.
At around three months old, younger parakeets tend to make noises only in response to others making similar noises or calls. Older parakeets will grasp new words when they hear them often enough, though some birds may never learn beyond basic chirps and whistles. More advanced birds may even begin associating words with activities or objects in their environment.
In general, an older bird is better at mimicking human speech than a younger one, so this skill can be used as an indicator for estimating a parakeet's age too.
Here's How to Determine Age in Parakeets with More Precision
If you want to determine the age of a parakeet with more precision, there are several signs that can accurately signal the bird's age. Let's take a look at what are the other ways to tell the age of a parakeet.
Observe Their Eyes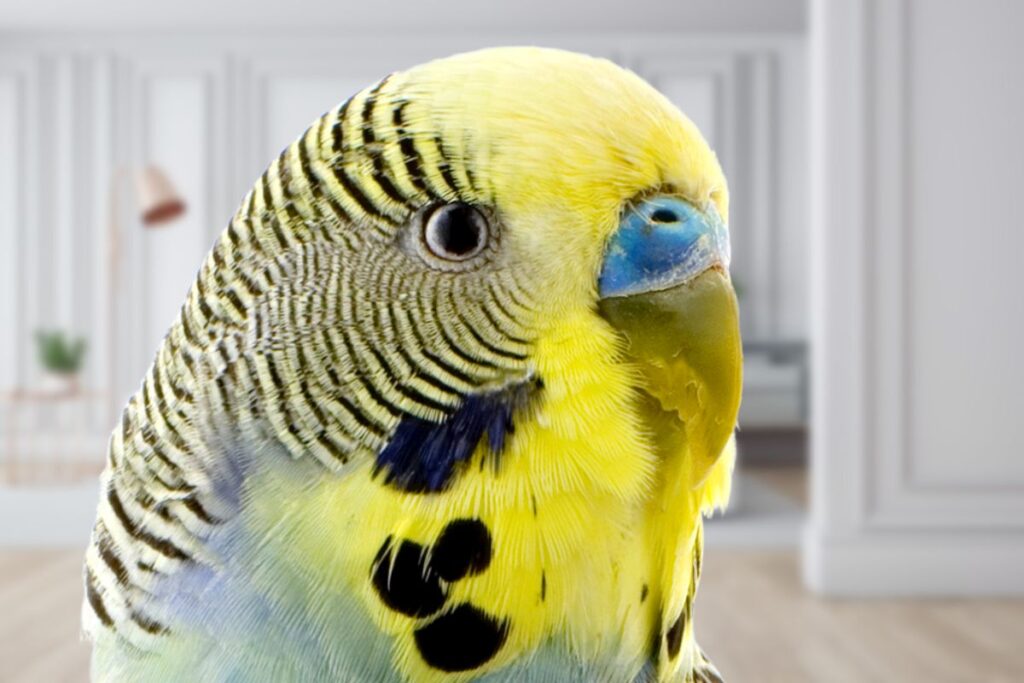 One of the easiest ways to tell the approximate age of a parakeet is by looking at its eyes. In a young parakeet, the eyes will be significantly darker in color. As they mature, they may turn gradually lighter until they reach their adult coloring. With experience and practice, you might even be able to accurately guess the age based on this feature alone!
1. Dark eyes and lack of visible iris in juveniles – Young budgies typically have dark to almost black eyes. As parakeets age, their eyes will gradually lighten in color until they reach their adult coloring. The iris will only become visible as they begin to grow up. If your parakeet does not seem to have a visible iris, it's likely less than 4 to 5 months old.
2. Development of iris at 4 to 6 months – When a parakeet is 4 to 6 months old, they start to develop a visible iris. This is a gradual darkening of the outer edges of their eyes that can be seen when looking closely. This is the first sign that your bird is beginning to mature.
3. Dark grey iris at 6 to 8 months – Once they reach 6 to 8 months, their iris will start to darken into a darker grey. It is important to note though, that many parakeets will get lighter and darker eyes over the course of their life so there's no exact shade of grey to look for. We can only use this as a general guide.
4. Light grey, brown or white iris at 8 to 12 months onwards – At 8 to 12 months old, most parakeets have dark eyes with a light grey or brownish grey color and flecks of white in the iris. This is usually followed by a light brown and white pattern as they reach 2 years old. They have likely reached their adult coloring at this point of time, and are likely to stay this way for a long time.
Observe Their Beaks & Ceres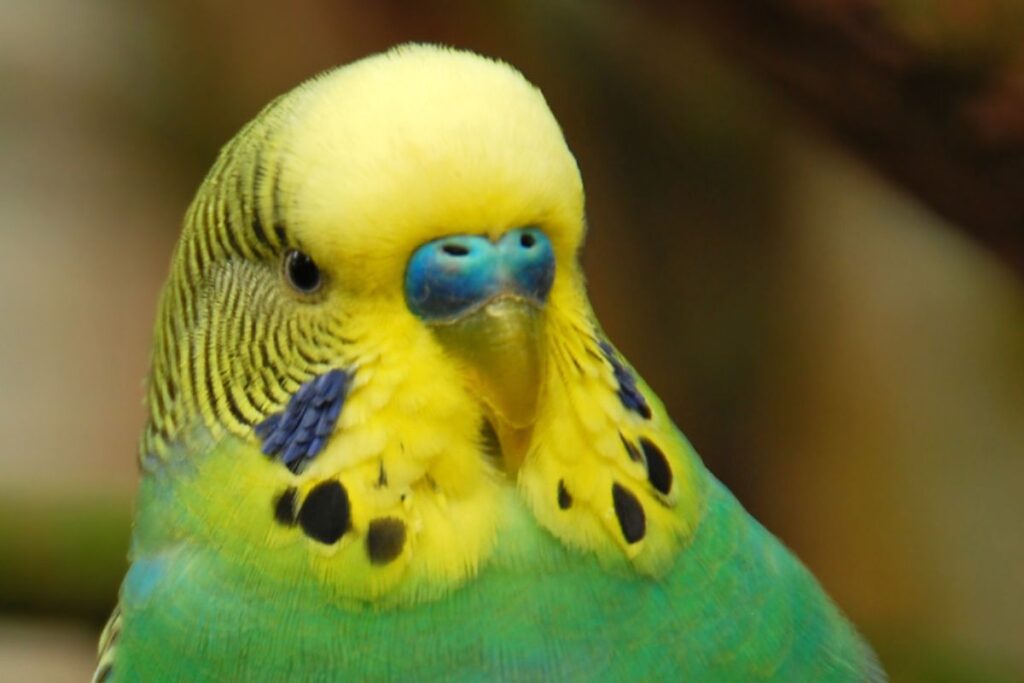 The beak is the hard, pointed part of a bird's mouth, and the cere is the fleshy part located at the base of the upper side of the beak. Observing the beak and cere of a parakeet can provide clues as to its age too. Specifically, though, you'll want to observe their color and how well developed these parts are.
1. Light-colored ceres in young parakeets, and sometimes dark or black beaks – One of the most obvious signs that a parakeet is young is its light-colored cere. You'll typically find that their ceres are white or pinkish in color. As they mature, their ceres will eventually darken to take a deeper shade of color (which depends if they are male or female). Also, if your parakeet has a dark or black colored beak (the hard part of the mouth, not the cere), it's likely under 3 months old due to the excess melanin pigmentation which has not gotten a chance to break down and fade away. But note that only some juvenile parakeets have this trait of having dark or black beaks, so it should not be used as the main indicator of their age.
2. Full-colored ceres in older parakeets – In older budgies, the ceres can be quite pronounced and deeper in color. The colors can range from shades of blue to purple for male parakeets, and tan to brown for female parakeets. Once they are fully matured, they will tend to no longer have any white shades around their ceres and display a single color.
Observe for Stripes on Their Forehead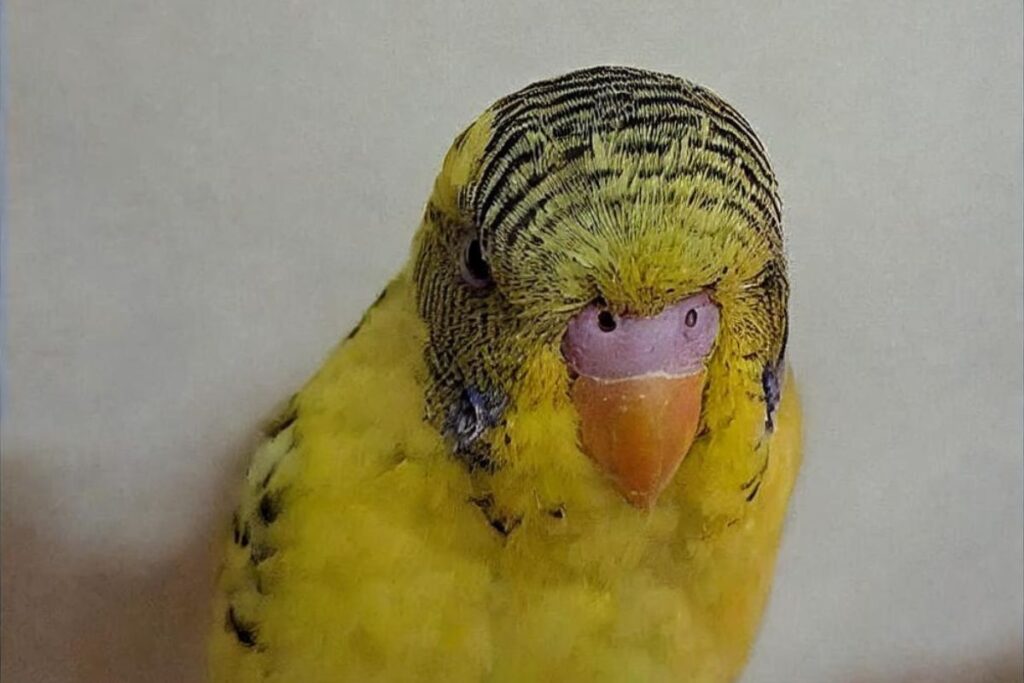 The cap feathers on the head of a parakeet can be a good indicator of its age. Young parakeets will have a stripe pattern on their forehead, that runs from the beak to the cap of the head. As they mature, these stripes will start to fade away and eventually disappear completely when they reach full adult age. But, note that this method is not reliable for the rarer varieties such as the albino parakeet, as it's likely that they do not have the pigmentation to create these visible stripes.
1. Striped cap for a young parakeet less than 3 to 4 months old – You'll be able to observe a striped pattern on parakeets younger than 3 to 4 months old. The reason behind this is that they have not yet gone through their first molting cycle, which is around the 3 month old mark. During the molting process, they will lose their baby feathers and grow out a white or yellow cap, thus no longer having stripes on their foreheads.
2. Solid cap for a parakeet over 3 to 4 months old – As mentioned, once a parakeet has gone through the first molting cycle, it will no longer have any visible stripes on its forehead. Instead, you'll find that their cap feathers are solid in color, and usually a shade of white or yellow.
Check for the Hatch Date as Shown on Their Leg Band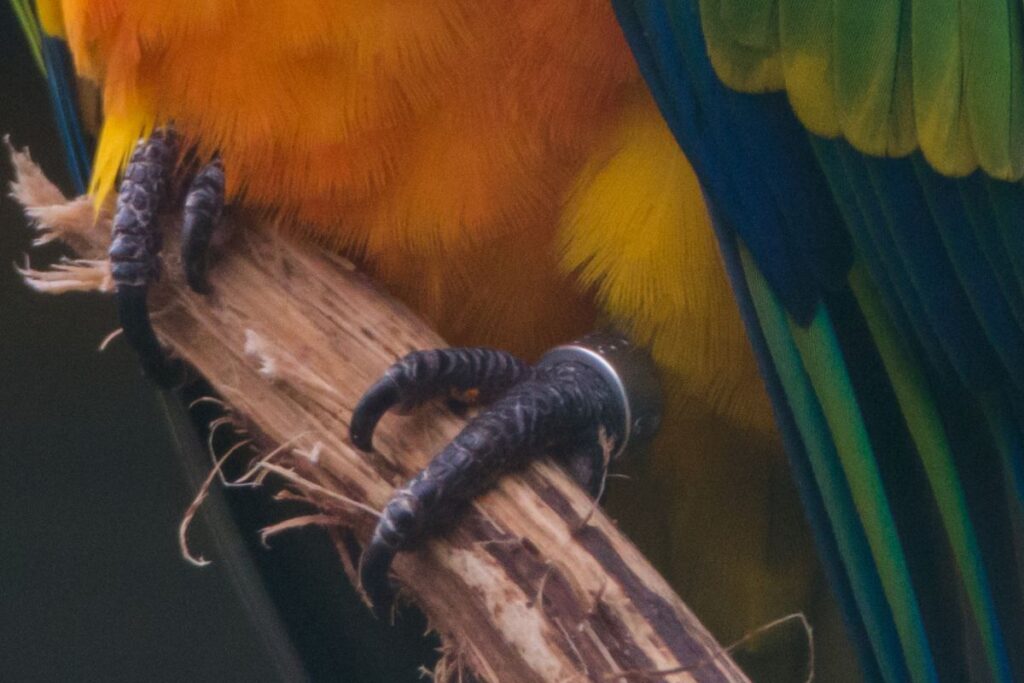 The most common way to tell the age of a parakeet is by looking at the leg bands. Banding is a process where a metal or plastic band is placed around the lower part of one leg. This band has information about the bird, such as its hatch year, inscribed on it.
If you purchased a parakeet from a store in the United States, it is likely that you parakeet has a leg band on it displaying its hatch year, among other essential information.
Signs Of An Elderly Parakeet
If you already own an elderly parakeet, there are several signs that can tell you the age of your pet. First, look at your bird's feathers—those on its head, wings, and tail should be more dull in color and turn drab than they were when it was a baby. Also, because parakeets molt periodically throughout their lives, older birds will tend to have fewer and fewer new feathers each time they molt.
Furthermore, elderly parakeets are typically much less active than young ones due to loss of muscle mass. You may also notice a decrease in overall activity as your bird ages—it may not fly as much or chirp as frequently as it did in its younger days. Sometimes, you'll also observe that they seem more lethargic and have a decreased appetite.
Keep an eye out for any health problems associated with old age such as obesity and even arthritis.
How To Care For Parakeets Based On Their Age
Even though parakeets seem like they stay the same size their entire lives, they actually go through several different developmental stages. These stages are loosely based on their age, and each stage has different care needs. Here is a quick guide to help you figure out how to best care for your parakeet based on their age.
0 to 4 Weeks Old
At this age, your parakeet will need to be fed a special diet of formula or baby food designed specifically for parakeets. They will also need to be fed more often than older parakeets, typically every 2 to 3 hours. Check out the article on what to do after parakeets eggs have been laid for more details on infant parakeet care.
4 weeks to 6 Months Old
Once your parakeet reaches 4 weeks old, you can start slowly introducing them to adult bird food. By 6 months old, they should be eating mostly adult food with only occasional snacks of baby food or formula. During this stage, they will also start losing their baby feathers and growing new adult feathers. We usually call this the weaning stage.
6 to 8 Months Old
During this time, your parakeet's wings and tail feathers will start to come in. You'll notice that he is getting bigger and his plumage is looking more like an adult's. His behavior will also start to change during this time as he becomes more independent and exploratory. He may start to chirp more and become more active in his cage. They are very curious and like to explore at this stage, so make sure to provide plenty of toys and activities for them.
8 Months to 1 Year Old
Parakeets reach sexual maturity around this stage, so if you don't want baby parakeets, you'll need to separate them from any potential mates! At this age, they will also start interacting more with other birds and may become territorial. Sometimes, parakeets may also reach sexual maturity slightly earlier from the 6 months old mark.
1 Year and Up
Once your parakeet reaches their first birthday, they are considered an adult bird. They will typically have all of their adult feathers by this point, and their weight will have stabilized. Adult birds don't usually need as much attention as younger birds do, but they still enjoy social interaction and playing with toys.
8 Years Old and Up
As your parakeet ages, he will begin to show some signs of old age. His plumage will become dull and he may start to lose feathers. His activity level will decrease and he may sleep more. He may also start to lose weight. To ensure the best care for your aging parakeet, make sure to provide plenty of fresh food and water, as well as a comfortable place to rest. Continue to show them affection and love, as this will help them stay healthy and happy.
Final Words
Determining the age of a parakeet can be tricky but with careful observation of physical characteristics and behavior you should be able to make an educated guess. Knowing the age of your bird is important to understand what kind of care it might need and can also give you insight into its personality.
When in doubt, consider visiting an avian veterinarian for more help in determining your parakeet's age. With all these tips, I hope you'll be able to tell the age of your parakeet in no time!
Browse Bird-Related Products